If you are a web designer who has recently started using WordPress or you are an experienced WordPress designer then you might be searching for plugins to make your job easier. Here we suggest the top 7 plugins that make your web design job effortless on WordPress.
By using this plugin you can design any post/pages easily using the different drag and drop elements.
Features:
Both Back-end and Front-end editor
Lots of content elements to structure your pages as you like
Skin Builder to specify you own template
Fully Responsive
Extend using your own code
Fabulous Support
Using this set of plugins you can create custom post types and display them using custom views easily without writing a single line of PHP code.
Features:
Create WordPress Custom Post Types
Customize Editing Screens with Custom Fields
Variety of custom fields, including check-boxes, text areas, visual editors, images, drop-downs and many more.
This plugin can also validate user-input.
Types supports inline child-data editing.
Views lets you build sites without coding
Views works with any theme
Views lets you reuse your work
Views lets you update client sites quickly
Views lets you prototype and deliver early
Design templates for single pages
Display content in grids and lists
Allow visitors to search using parameters
Build custom sliders out of anything
Paginate big data
Display relational data
3. Vimeography
If you're a film-maker or someone who handles video on a regular basis, this plugin lets you showcase video content beautifully without using manual hacks. Vimeo users can take advantage of the Vimeography WordPress plugin to create and display fantastic-looking video galleries.
You can create multiple galleries and display anywhere using the shortcode feature in WordPress. At present this plugin only supports Vimeo, which is arguably the best platform to display your portfolio.
4. Jetpack
Jetpack is an all-in-one multipurpose plugin for WordPress. If you have ever tried wordpress.com and want its features included in your site , then Jetpack is what you want.
Features:
Connect your site to different types of social media platforms.
Jetpack comments system
Convert Image galleries to Carousel
Auto Proofreading
Realtime backup your data
Insert a contact form anywhere
Custom CSS editor
Auto mobile theme
Videopress to upload and post videos
and many more….
5. Layer Slider
With the Layer Slider Plugin you won't have to think of your sliders again. This plugin has all the functionalities to create the world's best sliding experience – whether its an image or HTML element, using various animation techniques.
Features:
Super smooth hardware accelerated CSS3 transitions with jQuery fallback
Fully responsive & multiple layouts support
High compatibility with old browsers
Unlimited layers with image, video, audio, text or custom HTML content
Powerful API for more customization
SEO friendly
Very detailed documentation with examples
Different variations of usage (image slider, image slider with text, content slider, video gallery slider, mixed content slider, banner rotator, carousel, etc.)
Free updates & support
This plugins provides hundreds of short codes to customize your theme.
Features:
187 shortcodes in total
Built-in Lightbox to support all video platforms.
New: Visual Columns (Responsive)
Create your own custom Shortcodes
Add allowed external URL's for the build in thumbnail generator (Supports CDN)
Shortcode Insert Tool
Support for Custom Post Types
Easy Import new Shortcodes
Easy Export Shortcodes
and more……
7. Elegant Theme Drag & Drop Builder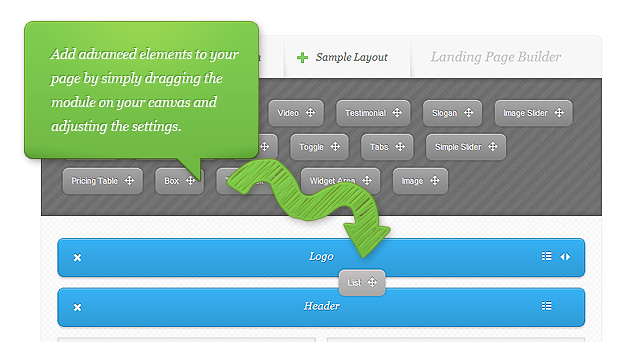 The Elegant Page Builder is a clean and easy to use page builder plugin. The plugin is designed to work with any theme. It plugin lets you add various components to your theme using many drag and drop modular elements. You can create buttons, lists, sliders, quotes, lightbox, testimonials, paper callouts, video embed, tabs, toggles, boxes, content sliders and many more.